So this week went by super fast..which is pretty good. Only five weeks left of the semester! How crazy is that..and then half of my college career is over. oh no.
Anywayy, today the roomies & i all had off work, which was nice. So for the afternoon after classes we went to Ardmore to do some shopping. We had lunch at this Farmer's Market which was so cute! Everything they had looked so delicious, although the majority of it wasn't vegan. boo. I ended up getting this spicy eggplant basil tofu from the chinese food section. It was really delicious!
After the farmer's market we headed to trader joes and picked up a few things. I got some tempeh, smart dogs, veggies, and a couple other random things. From whole foods I got the tofutti cuti mint chocolate chip ice cream sandwiches. I'm really looking forward to trying them, i've heard gooood things about them! And my roomie got cookie dough ice cream from Temptation which I've also heard awesome things about. :)
I forgot to post a picture of another thing I made while I was home! My mother and I made these delicious vegan peanut butter cups.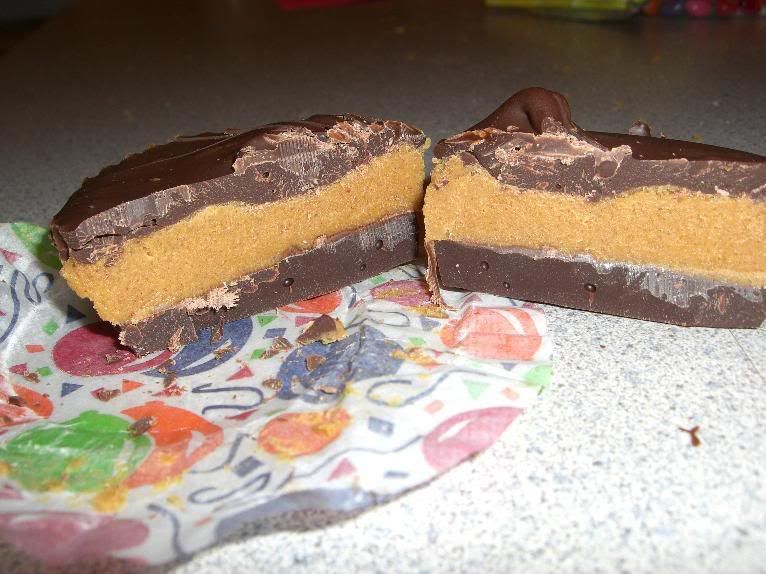 The only problem with them was the chocolate was much more solid than the peanut butter filling so it would kind of smush out a little bit..oh well, they were still delicious! And really easy to make.
Microwave 1 1/2 cups of vegan chocolate chips (we used ghardelli semi-sweet) for about 2 minutes until stirred creamy. Spread chocolate into cupcake papers for bottom layer so you fill the crevices as well. Put into freezer so the chocolate hardens. In a bowl, mix 1 cup peanut butter and 1/4 tsp of salt and fold in 1/2 cup of sugar. When chocolate has hardened, put peanut butter mix in microwave for 1 minute, let it cool a bit and then put as second layer over the chocolate. Microwave another cup of chocolate chips and use as top layer over the peanut butter. Place in freezer and eat when they've hardened!
We took them out of the freezer and put them in the fridge after,, which made the peanut butter not as hard. Anyway you eat them though, they're still delicious..i mean it's chocolate and peanut butter, whats not to like?
So I had a can of white kidney beans in the closet for a while because I had intentions of putting them in a soup I made a while ago, but never did. Soo I saw in my Skinny Bitch recipe book a recipe for white bean dip. And I made it..quite delicious!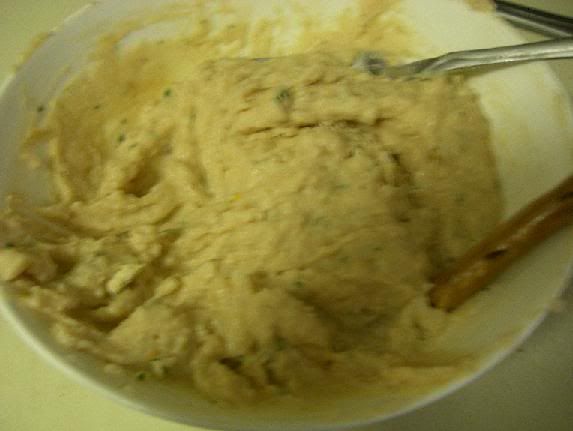 I did however add a bit of hot sauce to mine, due to my love of spicy-ness and hot sauce. I ate it with pretzels but I can see myself eating it with tortilla chips as well.
I mixed 1 15 oz can of cannellini beans, 2 cloves of garlic, 1 tablespoon of olive oil, 1/4 teaspoon of salt, 1/8 teaspoon of pepper and 1 tablespoon of basil and 1 tablespoon of parsley in a food processor. Then afterwards I added about 1 tablespoon or so of hot sauce. Delish!
Well hopefully i'll come up with a good recipe to make with the tempeh I bought earlier..until then. off to enjoy my weekend! :)